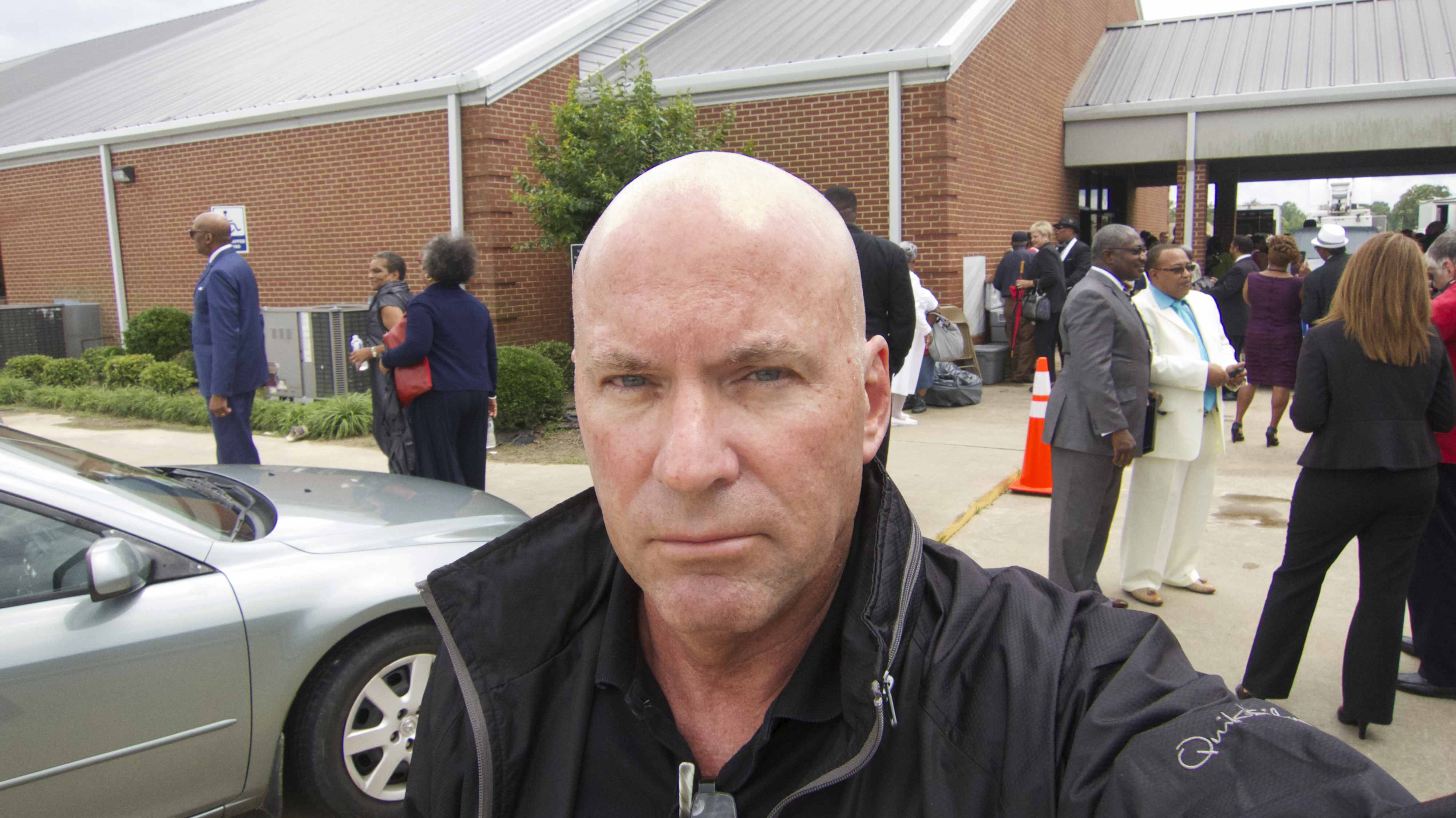 When I heard of BB King's death at the end of May, I decided to go to his funeral. BB had a tremendous influence on me and all blues musicians, and I wanted to pay my respects in person. 
        I was lying in bed thinking about him, and the next morning woke up, bought a ticket , and flew alone to Memphis via Atlanta from Bermuda. I spent the night, rented a car and drove South, crossing the border of Tennessee to Mississippi on Highway 61, the famed "blues trail" that leads to the heartland of the Delta and the birthplace of the Blues. I passed the crossroads in Clarksdale where Robert Johnson sold his soul to the devil in return for his extraordinary skill as a guitar player. 
        In BB's small town of Indianola, five hours South, there are only small motels, and everything was sold out. I found the last room in town in a run down Rodeway Inn. 
        That night I walked across the railroad tracks and saw a sign that said "308 Blues". I figured it was was a "juke joint", one of the countless small blues clubs you find in the Deep South. Indianola is mostly black and crushingly poor. I sat on a stool next to an older black man in the twilight outside the club. He said this and the Ebony were the two spots for blues in Indianola, and after awhile I went inside to the bar for a drink. 
        I fell into a conversation with one of the owners, David Gardner. A lot of people were in town for the funeral, and he was not surprised I was a musician. The funeral would be the next morning at 11:00 AM. He wanted to hear some of my music. Many well known blues greats have played in Indianola, and the legacy of the blues is deep in the identity of many of these small towns. There was no live music that night, but David played my Blues CD three times in its entirety (The Ellsworth Rosser Blues Band "Love Your Neighbor"), and quite a few people stopped by to say how much they enjoyed it. We stayed up until 5AM  talking and drinking Jack Daniels while David played me his favorite records. 
        Protected by divine providence, I awoke in my motel room at 9:30 AM, and had to seriously remind myself why I was there to roll out of bed. Dressed in black, I drove to the Baptist Grove Memorial, a small church in a field on the edge of town. I parked about a half mile away in a high school parking lot, and walked. 
        State Police were at the driveway to the church, turning away anyone without a pass, but just at that precise moment BB King's motorcade with hearse pulled up behind me, and I walked right in with his family and entourage. There were 2 empty rows at the back of the church, but a young black women insisted I continue to the front where I walked past BB who was lying in an open casket flanked by his two famous "Lucille" guitars. After paying my respects, I headed down the other aisle. A black man beckoned to me to sit next to him in the seventh row. I sat quietly in the heat and humidity, as ushers passed out cardboard fans. 
        There were perhaps fifty white faces out of the seven or eight hundred people crammed into the church, but I felt welcomed and included. The service lasted for four hours. I will never forget it. Friends, relatives, musicians, members of his tour company, preachers....all gave wonderful testimonials to BB's long and incredibly prolific career and legacy. 
Without consultation, a theme recurred over and over: humility and kindness. This is what people remembered BB King for. He was the greatest bluesman who ever lived, the finest guitarist and singer of his genre, playing an average of three hundred performances a year for decades all over the world, yet two words came so often from these disparate speakers: humility andkindness. Oh, to be remembered in such a way! 
        And the preacher started preaching, and the gospel singers started singing and the congregation started moving, and people began to testify, as only happens in fundamentalist Southern churches. Jesus! Jesus was there to welcome BB home! The church was rockin'!!! 
        We filed out behind BB's casket, and as we came down the church steps, gospel choir singing, 
the sky darkened and thunder rolled. The hearse pulled away and I walked across the field. Leaves were swirling in the storm wind, and the rain poured down. A car pulled up beside me. I saw an old man at the wheel "Get in, son, Get in!" 
I found myself with Tom Doolan, 83 years old, former superintendent of schools, and a lifelong friend of BB's. He drove me to my car, and we sat in the storm for 45 minutes while he told me stories of BB's childhood on the plantation near Indianola. "It was tough out there for him. He was so lonely after his parents were gone, he pedalled 45 miles on his Schwinn bicycle to be with his Aunt..." 
        That night I returned to Blues 308, and David Gardner joined me at the bar. "I arranged for you to play harmonica (or "harp" in the vernacular) with the best blues guitarist in Indianola. His band will start at nine, so get ready! 
        Mickey Rodgers, an elfish, older black man was dressed completely in white: white suit, white and black wingtip shoes and a white Fedora. His electric guitar was, of course, also white. His band included a drummer, bass player and keyboards. He plays in an elegant, understated style that I love, reminiscent of BB, with beautiful, clear tone. 
        I played the entire second set with him. Two black women, big as houses, joined us onstage to sing powerful vocals. At a certain point, I realized I was the only white person there, but the blues cuts through all kinds of barriers, and I felt appreciated and at home. 
        Well known guitarslinger Kenny Neal from Baton Rouge, Louisiana appeared out of nowhere and played three songs that rocked the house. After the break, Jimmy found me at the bar and invited me to play the closing set with him. 
        When we were packing up, he gave me his card, said he really liked my "tone" and to call him whenever I was in the area, and we'd get together and play. I stayed up till 3AM with David drinking more Jack Daniels. He walked me to my car, and told me to get my band together, and he would book me at his club and enough venues in the South to make it worth my while. 
        The next day I visited the BB King Museum in Indianola, and enjoyed an impromptu concert from Shirley King, one of BB's daughters. She is a blues player from Chicago, and she sang hilarious and somewhat lewd blues songs for the tourists who were packed in the gift shop. A handsome older black man accompanied her on alto sax. 
        As I was leaving we passed each in the hall, and he asked me if I was the "harp" player from Blues 308. I also recognized him from Kenny Neal's Band there the night before. His name is Alfonso Sanders, and I told him how much I enjoyed his playing, and what a great voice he has, as well. He invited me to sit in and play with him at a gig he was doing that night  in a town a few miles South. "The club is "Vince's". It's in Leland, Mississippi. A small place... you can't miss it." 
        That evening, when I got to Vince's, I was surprised. It was a supper club where patrons eat dinner and watch music in a cabaret type setting.The clientele was almost all white. Alfonso nodded to me from the stage when I sat down, and joined me at my table during his break. He invited over the only black couple in the room. An older well dressed man in a fine suit and his marginally younger girlfriend. He turned out to be 81 years old, but looked around my age. He was Alfonso's former music teacher from way back when. 
        Alfonso went back to playing, and I watched in wonderment as he played a variety of songs in different genres from blues to jazz to pop...even country. He has the most marvelous voice, and plays three types of sax, flugelhorn, clarinet and who knows what else, all to a sophisticated computer accompaniment he has arranged himself. The audience loved him, and he introduced me and called me up to play with him for the entire second set. We had fun, and it was a wonderful challenge for me to improvise playing harmonica to such a variety of styles. 
Lots of applause, and I had a great time. At the end of the evening, Alfonso came to my table again, and I told him I'd never met anyone like him in my entire life (so talented!). He laughed and hugged me. I left him chatting up a pretty girl at a far table, and walked out into the warm evening. 
        The next day, I drove through the the former cotton fields of the Delta, now planted with soybeans and corn, wandering somewhat aimlessly through small towns to the banks of the Mississippi. I visited Rosedale (from the Cream song "Crossroads") , and headed North, eventually crossing the mighty Mississippi River to Arkansas. I felt sobered by the poverty of these decaying towns. Black folks on porches with old washing machines and cars rusting next to rickety houses. Groups of young black men, talking in the shade.The air was humming with cicadas, and the smells of the damp earth rose amongst the shadows of towering trees. 
        The river was vast, brown and turgid, like thick brown gravy. The bridge was a steel span from the 1950's. In Arkansas, I immediately felt that there was more money. Roads were better. Homes maintained. More white people. I thought of Bill Clinton, from Little Rock, Arkansas, and I wondered how much money he was able to funnel to his home state during his 8 year presidency. 
        After a couple of hours, I crossed back over to Tennessee and saw the lovely skyline of Memphis on the banks of the Mississippi. I reached my hotel, the Madison, and checked in. Looking at my watch I guessed I might make it to the Gibson Guitar Factory, near Beale Street, just before it closed. Beale Street, along with Bourbon Street in New Orleans, is the most famous musical venue in America. I had toured the factory the morning I arrived, and for a guitar player it is a bit of heaven. I got to their showroom at four minutes to six. They were packing up, but the manager let me take my time, and I bought a lovely midnight blue SG Standard guitar. 
        I have been playing that guitar on my new record which I started recording the week before my trip. I feel inspired by the people I met, and I felt that BB's spirit guided me throughout my journey. 
        Two weeks later, a 21 year old white man stood up in a bible study group in one of Charleston, South Carolina's most historic churches and shot six women and three men dead, all black. Methodically reloading, he told them they had to die because "black men were raping white women and taking over the country". 
        In court, five of the victims' relatives addressed the man individually. In a scene unforgettable in American history, they told him, each in their own way and sometimes tearfully, that they forgave him. I wept at that moment, as "stunning in its beauty as his act was in cruelty" (Hillary Clinton). 
        I thought of the magic in BB's Baptist Grove Memorial Church, of "humility and kindness", and the friendship that so many people extended spontaneously to me on my trip to the Delta. As I get older, I often marvel at how good comes out bad, how beauty rises out of the ashes of murder and destruction. How these five people selflessly defused the most racially charged and potentially violent reactions to a crime so despicable it defies comprehension. 
        Charleston is one of my favorite cities. My daughter went to college a few blocks from the Methodist Church where this shooting took place. Downtown Charleston is an Antebellum fairytale, but two blocks from my daughter's apartment its own ghetto appears suddenly to demarcate the illusion. I thought of my 2 years filming a 52 part television series on the American Civil War. Our first episode was at Fort Sumter in Charleston Harbor where the South fired the the first shots of that bloody conflict. 
        That war is long over, and slavery no longer exists in America, but prejudice and the bonds of poverty are in America's soul like mud in the Mississippi River, flowing relentlessly towards a clear ocean we dream of, but can never see. 
-  Ellsworth Rosser